If you think that a wood fence is boring or plain, you haven't seen the wide selection of wood fencing types we offer! Wood fences are popular because of the privacy they provide, but there are so many styles and variations of wood fences that they can be used to add character and style to your home and backyard as well. Below we will go over some of our most popular wood fencing types – there will sure to be one (or multiple) that will suit your needs!
Horizontal Fence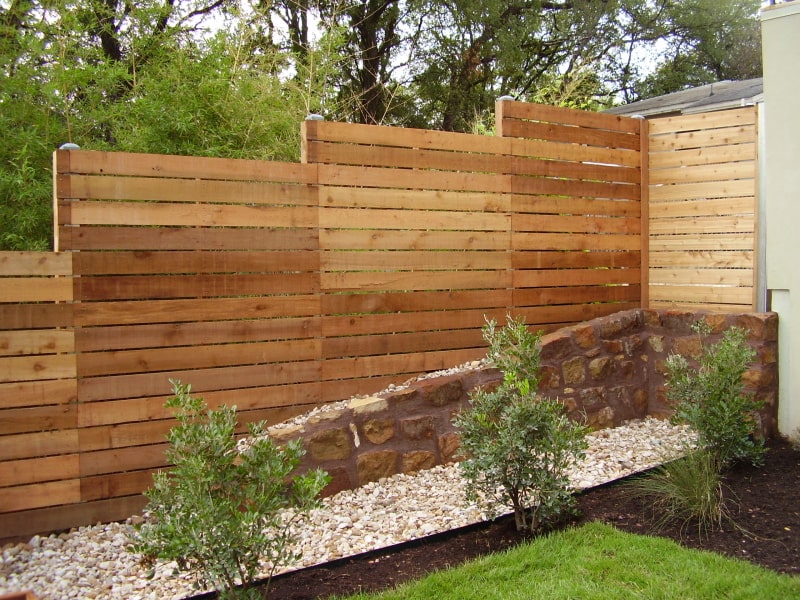 Horizontal fences continue to grow in popularity because they are one of the only fencing options that offers a truly modern and contemporary look. The height and length of the planks used can bring a further custom look to your backyard, while of course providing the privacy and practicality you would expect. Like other variations of wood fences, horizontal fences can also be further customized with different shades of wood stains.
Cedar Privacy Fence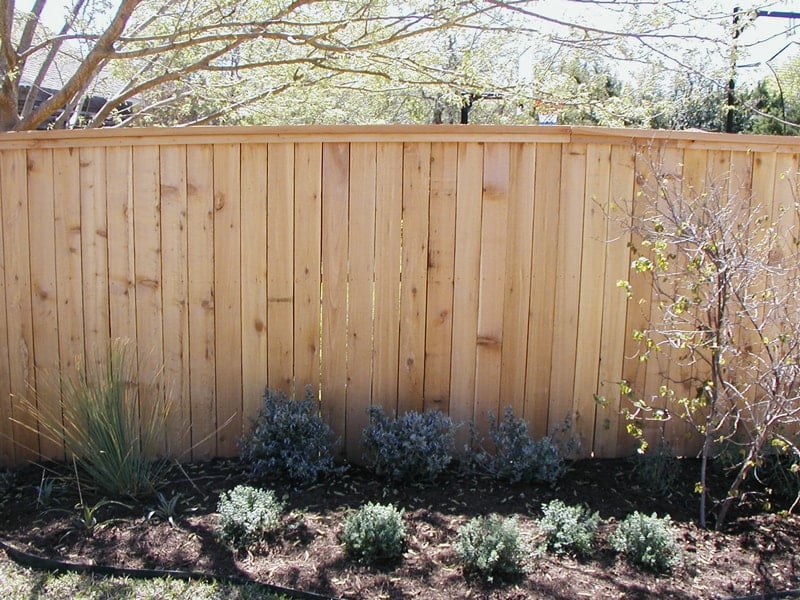 Cedar privacy fences continue to be a top-selling fence and it's obvious why. Cedar wood is one of the most durable woods available and the cedar pickets provide crisp, clean lines that will complement any home style. Cedar privacy fences can be further customized with fence heights, color and variations in picket width. Additionally, there are many top accents that can be added to your cedar fence to bring it's look up to the next level.
Good Neighbor Fence
Are you looking to split the cost of your fence with your neighbor? A good neighbor fence might be just what you're looking for. With a good neighbor fence, the fence panels alternate on either side of the posts. This creates a uniform, clean look, no matter what side of the fence you're on. If you and your neighbor decided to go with a standard wood fence as opposed to a good neighbor fence, one neighbor could have the backside of the fence facing their home – not an ideal situation.
Shadow Box Fence
Although not as well known, shadow box fences are used to adjust the amount of privacy, light and airflow your yard will receive. Pickets are spaced in a uniform variation to manage the privacy and light that comes through the spacing between the planks. Shadow box fences have one of the most unique looks when it comes to wood fences and this look can be further customized with wood stain and different fence heights.
Board on Board Fence
If you're looking for extreme privacy, a board on board fence might be the fencing solution that you're looking for. Board on board fences are exactly what they sound like. Fence pickets are placed on top of other pickets to cover any previous gaps that existed between the planks. This ensures that even as your wooden fence planks shrink overtime from weather and outdoor conditions, your privacy won't be compromised.
As you can see, no matter what your privacy needs and personal tastes are, there is a wood fence for you. If you're interested in learning more about our different fencing options, or are ready to talk to a fence company call us today! We're available for all of your wood fencing needs.