We take pride in bringing you wood fences that provide privacy, security and long-lasting beauty.
Our wood fences are designed and purpose-built to fit your unique lifestyle and to create the atmosphere you want for your yard: From a tall fence that enhances your sense of intimacy, security and privacy, to a small fence that nicely segments your garden, compost or storage area, Austex builds for your specific comforts and needs.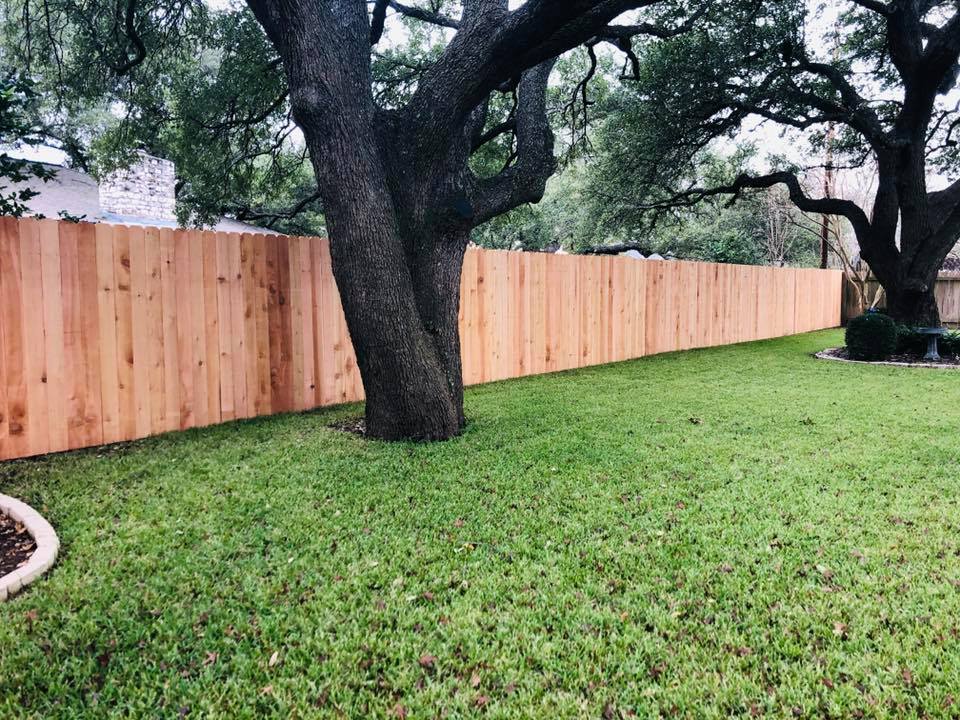 Our Promise
Whether you select one of our popular fence styles, or custom design your own, you gain the benefits of having a well-engineered, properly installed Austex fence:
Fence Posts
Metal Posts – Our most popular choice, metal posts bring strength and durability to your fence. These posts are built to stand up to extreme conditions and stand the test of time.
Cedar Posts – Very durable, cedar fence posts typically last 6 to 10 years. Not as long-lasting in ground moisture as treated posts, cedar posts look best in a framed fence rather than a front-mounted panel fence.
Treated Pine Posts – Our treated pine fence posts are premium quality posts direct from the mill and pressure-treated with Micropro, the revolutionary new way to pressure treat wood deeply for true durability. Beyond protected, they're guaranteed by the manufacturer against termites, rot and decay. They're also structurally stronger and more durable than cedar.
Wood Fence Pickets
Flat-top vs. Dog-eared Pickets – Dog-eared pickets are used if there is any slope to the fence because they break up the step-down of each picket. Flat-top pickets can be used only when the ground is absolutely flat and there is no change in the top elevation of the fence; flat-top pickets are rarely used because an uneven fence top becomes an eyesore.
Western Red Cedar Pickets – Western Red Cedar fence pickets are Austin's No. 1 choice. Widely used due to their natural beauty and resistance to decay, warping and twisting, these cedar pickets are stable with minimal movement or shrinkage, and they're long-lasting with an average life expectancy of 12 to 15 years. These cedar pickets can be left unfinished to weather naturally to a driftwood gray for a rustic weathered look. Or they can be stained to keep a newer wood color and to prolong the life of the wood. If stained, they must be re-stained every couple years. Unlike many Austin fence companies who shop at the closest big box store, Austex Fence and Deck selects only quality wood from premier manufacturers. Visit our showroom and see the difference.
Rightwood Pickets – Austex's pre-finished whitewood fence pickets are environmentally safe. Not pressure treated and free of metallic compounds, arsenic, lead and copper, Rightwood is not what is commonly called "Chinese Cedar." Our lumber come from the largest renewable softwood supply in the United States, the working forests of the Pacific Northwest, a managed, renewable resource of the United States.
Fence Rails & Gates
Cedar Rails – Austex Fence and Deck works with Western Red Cedar for rails because cedar won't warp or crack as soon or as much in the intense Texas heat. Unless specified otherwise, Austex Fence and Deck sets the fence 1 to 2 inches off the ground and keeps the top of the fence straight. The ground is often uneven and it is preferred to keep the top straight and landscape any excessive gaps beneath the fence.
Austex unique gates – Unlike other companies in the industry, here at Austex, we build all of our gates with 3 rails and 3 hinges to ensure greater security, solidity and longevity.