If you're searching for the perfect fence for your yard in Austin, a shadowbox fence is a great option. These fences are designed to cast a shadow and look incredible inside and out, ensuring that your yard and your neighbor's yard have an attractive look. 
What is a shadowbox fence
One of the more unique variations of wood privacy fences is a shadowbox fence. This is a popular option for Texans as they offer an appealing aesthetic without sacrificing privacy.
Shadowbox fences are constructed with the standard picket or dog eared picket, but instead of placed side by side as in a typical privacy fence or overlapping like a board on board fence, the boards are alternated on either side of the fence rail – about two to three inches apart.
The final effect creates shadows – resulting in the moniker. If you're on the fence (pun intended) about selecting a shadowbox style fence, take a look at some of their most notable features below.
Shadowbox fence styles
Shadowbox fences are a versatile option with many styles and types, all with their benefits and drawbacks.
Wood shadowbox fence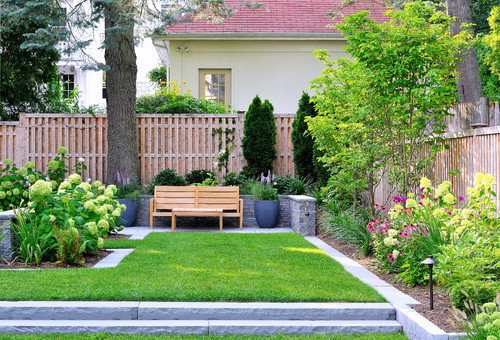 Some wood shadowbox fences come with pre-packaged wooden panels and pickets that are easy and relatively inexpensive to install, but at Austex Fence and Deck, we build our own panels and pickets for a polished finished product. 
Most red cedar shadowbox fences are preferred because they're highly durable and repel insects, but you can also go with cypress, fir, spruce, redwood, or pine.
Cedar and cypress are also rot resistant and can withstand harsh weather conditions.
Vinyl shadowbox fence
Vinyl shadowbox fences are popular for many of the same reasons as vinyl fencing in general, especially in hot climates like Central Texas. 
It's a durable and weather resistant material that requires much less maintenance than wood or metal fencing.
You can also customize shadowbox vinyl fences with matching gates or unique post caps that add some aesthetic appeal. Vinyl tends to be a cheaper material than wood as well.
Dog ear shadowbox fence
Dog eared shadowbox fences are among the most popular styles for this design.
As the name suggests, dog eared shadowbox fences have lopped-off corners on the tops of the pickets that resemble a dog's ear, giving the entire fence a softer and more pleasing look.
Because of this design's popularity, dog eared shadowbox fences are easy to find and don't add to the cost of purchase and installation.
Horizontal shadowbox fence
Though most shadowbox fences have vertical boards, horizontal shadowbox fence options are available to tailor your fence to the look you want.
These fences offer all the same benefits of a shadowbox fence, though they can be a little more expensive than vertical options.
They are more private, however, as it's more difficult to peek between the alternating boards to see inside the yard.
Central Texans often choose horizontal shadowbox fences for their unique and sophisticated look.
Flat top shadowbox fence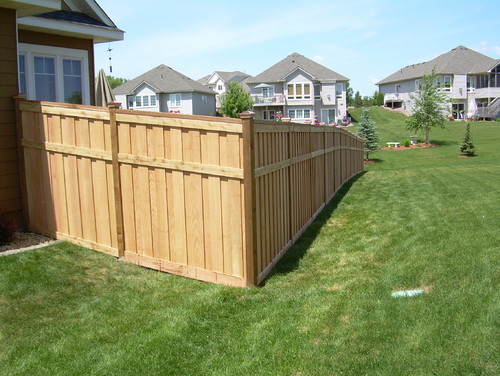 A flat top shadowbox fence features a board that runs along the top of the fence, creating a polished look that frames the pickets. 
This option is popular for its clean look and modern style, but it does take additional materials and requires longer installation, adding to the total cost.
Gothic shadowbox fence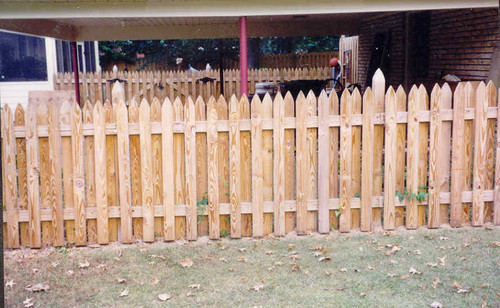 Gothic shadowbox fences are popular for privacy fencing with aesthetic appeal. 
Usually made of wood, gothic fence designs feature striking pointed posts that discourage climbing or jumping, keeping unwanted people and animals out of your yard.
It's also a classic design that never goes out of style. Though elaborate, this design doesn't add too much to the cost or time for installation.
French gothic shadowbox fence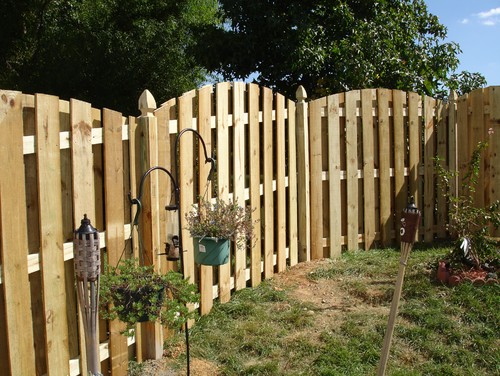 A French gothic shadowbox style refers to the design of the fence posts, which have a decorative top to resemble the French gothic architectural style. 
One of the best known examples of French gothic architecture is the Notre-Dame Cathedral, which features the verticality and pointed arches that are characteristic of the style.
This shadowbox fence is popular in Central Texas for its classic and striking design, though it doesn't add time or cost to the installation.
Arched shadowbox fence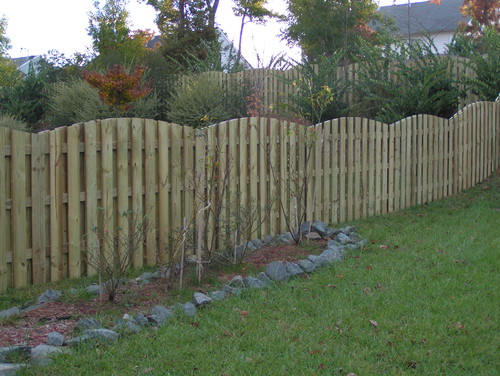 Arched fence panels are a popular design feature for Central Texas homes because the arched tops break up the monotony of a straight fence. 
The arches can face upward or downward between each supporting post, creating an undulating pattern and visual interest.
This feature is more difficult than a standard shadowbox fence, however, so it's more expensive. The arches make it slightly less private, but you can compensate for that with a taller fence.
Scalloped shadowbox fence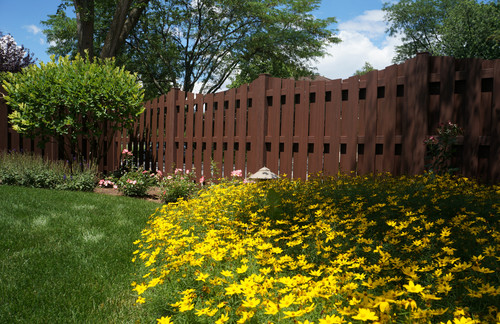 Scalloped shadowbox fences are similar to arched panels with visual appeal but they have a softer and more graceful slope that forms the scallop shape. 
Whereas arched fences can go upward or downward, scalloped fences come up between the posts in a soft curve with the edges meeting the posts.
Because this design is more elaborate, it can add time and cost to the installation.
Shadowbox with lattice top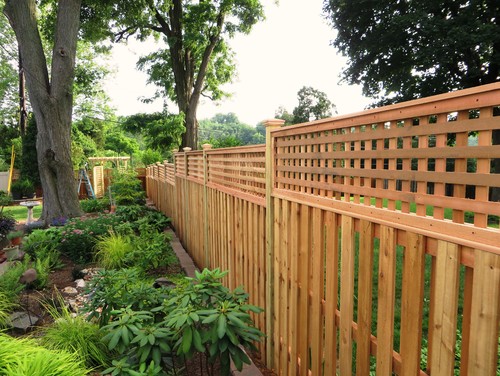 Lattice tops for fences break up the solid boards of a privacy fence and allow more light and shadows to come into the yard. 
This design is popular and can be added to a shadowbox fence for the same purpose, blending with the light and shadow cast by the fence itself.
Lattice tops can be more challenging to install, so it may be a longer and more expensive installation process.
Benefits of a shadowbox fence
Shadowbox fences are popular for many reasons. Here are some of the benefits of a shadowbox fence:
Visually Appealing
Shadowbox style fences provide an additional level of visual interest compared to other privacy fence variations.
The pattern created with alternating pickets allows light to shine through, while the combination of the planks and gaps will give you the benefit of natural lighting without sacrificing privacy.
The other benefit of a shadowbox's picket placement is that when you're inside your yard you're not restricted to only viewing the fence rails; you'll enjoy the look of your fence from both the inside and outside of your property.
Extremely Durable
Because of the unique picket placement in a shadowbox fence, your fence has a better chance of staying upright during extreme wind and storms.
The three-inch gaps between the planks allow wind to pass through as opposed to being completely obstructed by the plank placement in a privacy fence.
Instead of fighting against the wind, a shadowbox goes with the wind, reducing resistance and maintaining the integrity of the fence.
The alternating plank placement also prevents sagging or falling pickets because the weight is evenly distributed among the fence rails.
Pet Friendly
If your dog tends to consistently bark at your fence or constantly attempts to jump over it to see what's on the other side, you may benefit from a shadowbox fence.
Because shadowbox fences have small gaps between planks, you'll give your pets the opportunity to see what's on the other side of the fence without risking their well-being.
The gaps are too small for pet escapees, but with the peerable gaps jumping and climbing will be discouraged.
Neighbor friendly 
Most properties share a fence line with a neighbor, so it's important to have proper fence etiquette.
Some fence designs have a "bad side," which is the less appealing interior. Naturally, most homeowners don't want that bad side facing their yard, so it can end up facing the neighbor's yard and ruining their view.
Shadowbox fences have no bad side, as the boards are alternated on either side, so both you and your neighbor get the blend of light and shadow cast by the boards.
These fences are among the more "neighbor-friendly" fences that are appealing and respectful to both parties.
Customizable
Like with other wood fencing options, you have the opportunity to fully customize your wood shadowbox fence.
Stains, paints, and wood material are all part of the selection process so you can completely complement your home's exterior.
You'll also be able to select the picket style of your fence; the most popular options are convex panel, gothic, and lattice fence tops.
No matter which style selections you choose your fence will be sure to add to your curb appeal.
Privacy
One of the benefits of a shadowbox fence is that it allows light in more than a privacy fence, but it still offers some cover for your yard.
The alternating boards ensure that your backyard is not in full view of neighbors or passersby, but it's not entirely closed off.
A persistent passerby can get a glimpse inside through the gaps in the board. If you want to completely block the view of your yard, this is important to keep in mind.
Shadowbox fence installation 
Shadowbox fencing is relatively easy to install, especially if the design is simple.
Professional shadowbox fence installation is still recommended, however, as it can be difficult to arrange the boards properly on your own and ensure that the gaps are evenly spaced.
Installation involves the fence panels, post and runner components, fasteners, at least one walkthrough gate, and optional gates.
In addition to measuring, arranging the posts and boards, and ensuring the entire fence is sturdy, a professional fence installer like Austex Fence and Deck can install the entire fence with quality work and customer satisfaction. Once the work is finished, cleanup is also handled for you.
Wood shadowbox fence installation can take about two to four days, depending on the length of the fence installed. Other materials, elaborate styles, additional gates, or large yards may take longer, but we can provide you with an instant online quote for the time and cost.
---
For shadowbox fencing and all of your other fencing needs in Austin and the Central Texas area, give our fence contractors a call for a consultation today. We look forward to introducing you to our exceptional customer service team and quality fencing solutions.