While you may just assume a typical wood fence consists of pickets, there are actually a few different components of wood fences. Besides pickets to complete your fence you need rails and posts.
With all three wood fence components, and professional fence installation, you can expect to enjoy a stable and complete fence for years to come.
Below we will dive into the three main parts of a wood fence and the role they play in fence stability.
Main Components 
A residential wood privacy or picket fence consists of three components: Posts, pickets or in-fill boards, and rails. Learn more about these components below. 
Posts
Supporting the main weight of the fence, posts are the backbone of any fence. Posts are typically installed by boring holes into the ground, adding concrete, and then placing the posts into the concrete. 
The topography of your area will determine how deep the holes will be dug. These extra steps in the beginning will ensure your fence's stability for years to come.
While wood fence posts are typically made with 4"x4" planks, their height is dependent on the desired height of the fence.
Post caps and finials offer an option to not only transform your property's curb appeal and personalize your fence but protect the posts.
These final touches come in a variety of styles and designs to ensure your fence's look reflects the style of your home, as well as ensuring that the posts are protected from the elements. 
For example, you can choose anything from a dome or flat post cap to ornate designs like flower buds, filigree, or acorns.
Pickets or In-Fill Boards
As we mentioned above, people usually associate fences with pickets. Also commonly referred to as slats or boards, pickets are available in a variety of sizes and thickness levels. 
They are also available in multiple top styles like dog ear, flat top, and horizontal.
The most common industry picket size is 42" or 72" tall and ⅝" thick; ½" thick pickets are considered more economical, while 3/4" thick pickets are seen as a premier option still at an affordable price. 
It's important to note that pickets are labeled according to their measurements.
You have options for how your pickets can be arranged as well.
If you want complete privacy, your pickets can be placed tightly together side by side, leaving no gaps where onlookers can see into your yard.
Another option is more of a shadowbox fence design, which balances sunlight and privacy.
With this design, the parts of a privacy fence are separated to leave small gaps. You still have some privacy, but plenty of light can filter in through the gaps in the fence.
Rails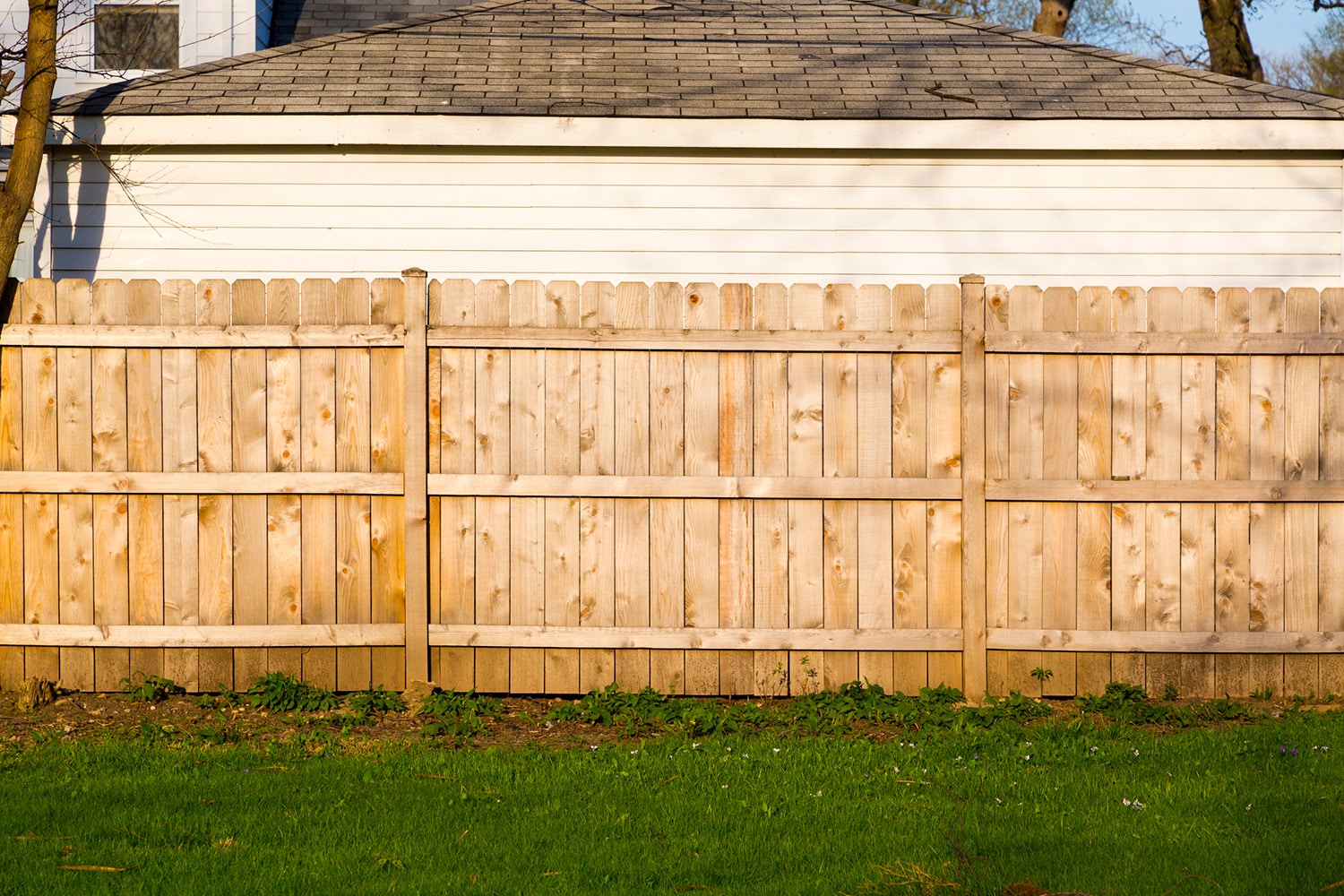 Running horizontally along the length of the fence, rails are used for picket attachment. 
Rails are also known as backer rails or fence stringers, and depending on the fence style there might be two or three rails running along the entirety of the fence. 
Depending on the style and height of the fence, there may be two or three rails. These rails are made with 2x lumber for thickness, but of course, their length is dependent on the length of the fence.
Additional Wood Fence Components
In addition to the main components of a wood fence, there are other parts of a wooden fence that add function or style. 
Cap Board 
The cap board is a 2×6 or 2×8 piece of wood that runs flat along the top of the posts and pickets. 
Although the cap board is intended to protect the exposed ends of the pickets and prevent rain and moisture from damaging them, it provides a very aesthetically pleasing finish to the fence.
Cap boards also make fences more stable in harsh weather conditions like storms and heavy winds.
Kick Board or Mud Board
A kick board or mud board is a 2×6 or 2×8 piece of wood that runs along the base of the wooden fence for a finished look and better protection. It keeps the main fence posts and pickets away from the ground to prevent decay from moisture. Typically, the kick board is designed to match the cap board.
Trim Board
Trim boards are added to the wood fence panels to create a finished look on the fence. The trim hides the fasteners that connect the pickets and the rails and give the fence a more polished appearance, which is also helpful if your wood fence borders a neighbor's property. 
Fence Gates
No matter what type of wood fence you have, you will probably want a way to access your fenced-in yard without going through the house. 
Gates add a secure, convenient access point that complements the look of your fence.If you have a large yard, you can add a few gates as needed. 
Similar to the fence, the gate can be customized to match your fence and include hinges and a latch for security. 
For added durability and having a long lasting gate, Austex Fence and Deck recommends using 3 hinges.
Descriptions always do best with pictures and hopefully this will help you visualize the parts of a wooden fence. Hopefully, you have a better understanding of what makes your fence both functional and beautiful, but if you still have questions, our fencing experts are ready to take your call. Contact Austex for all of your fencing needs today!
FAQ About Parts of a Wood Fence
What is the pointy part of a fence called? 
The boards with pointy tops are pickets. They're so named because they resemble the pointed stakes historically used by infantry to repel cavalry. The top rail and bottom rail of the fence are attached to the fence posts, which may have a picket look or a decorative post cap.