Choosing a fence for your backyard can be a difficult decision with all the variations available in today's market. When your backyard has a slope however, you have another element to consider when making your final fencing selection. To help make your choice a little bit easier, below we cover some of our favorite fencing options for backyards with slopes and the benefits of each.
Wood Privacy Fences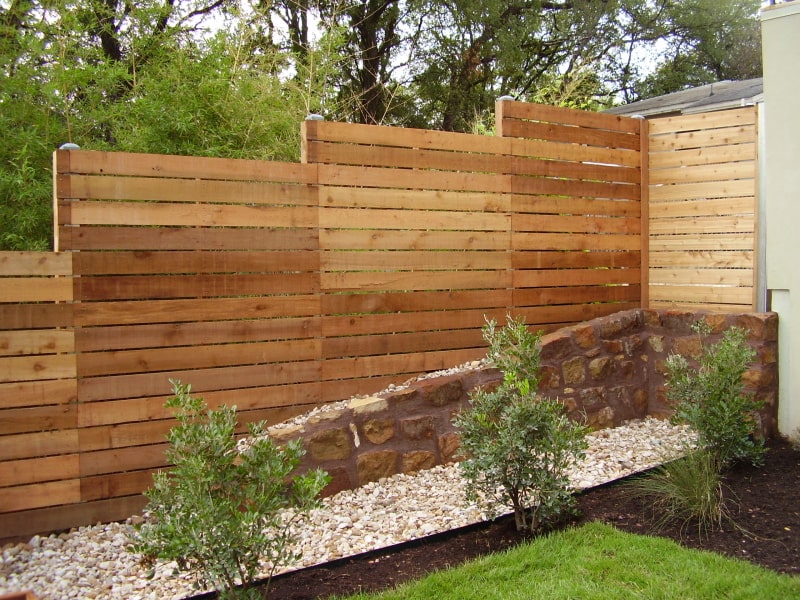 Just as wood privacy fences are great for flat backyards, they work just as well with sloped backyards. When installing a wood privacy fence along a slope, installers will often implement a technique known as stepping. Stepping is when each fence panel is installed at a slightly higher (or lower, depending on the direction of the slope) elevation; the finished product of a stepped fence looks like stairs.
If your backyard slope is slight, you might not need to have a stepped fence. Instead, your fence installer will follow the slope of your terrain by installing the horizontal rails of your fence parallel to the ground, rather than at a single level the entire length of the fence.
One thing to keep in mind when installing a wood privacy fence on your sloped backyard is that you may not have the same level of privacy throughout, as your fence height may change in line with the slope of your backyard.
Vinyl Fences
Those looking for a maintenance-free fencing variation will appreciate the ability to add a vinyl fence to their sloping yard. Keep in mind that vinyl fencing is manufactured in panels, so your only option with a vinyl fence is to have it stepped. The intensity of the slope in your yard will determine the intensity of the fence stepping; the more drastic the slope, the more drastic the fence stepping will be.
As we mentioned above vinyl fences are pretty much maintenance free. Unlike wood or iron fences, there is so staining, painting, or sealing that needs to be routinely done. In fact, if your fence is to get dirty, chances are the next rain will wash it clean. Just make sure it's installed correctly and you'll have worry-free privacy for years to come!
Iron & Aluminum Fences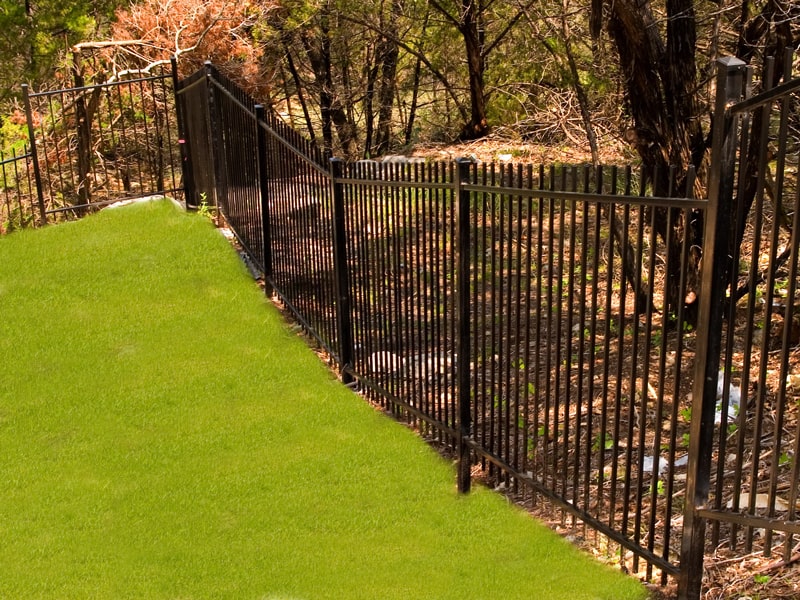 If privacy isn't as much of a concern on your property or you want to avoid any harsh lines that a stepped wood fence can have, an iron (or the more affordable alternative aluminum) fence can be gradually sloped to follow the grade of your backyard. Installing an iron or aluminum fence in a sloped backyard requires expertise and precise calculations, so choosing an experienced fence installation company like Austex Fence is essential to pulling this type of project off.
As with any fencing variation, iron or aluminum fences have their own advantages and disadvantages. If you live in a scenic area and don't want your fence to disrupt your view, an iron fence will provide your backyard with some security while still allowing you to see between the rails. Of course, this also means that you won't have as much privacy and that your backyard won't be as protected from critters or pests.