Don't give up your dreams of a beautiful, secure fence just because your property is on sloped land. Austex has a number of ideas that can help you enjoy the perks of a fence, even with a steep slope in your yard.
To help make your choice easier, we'll share some fence on slope ideas for your 2023 fencing project. These ideas include some of our favorite fencing options for the backyard with slopes and the benefits of each one.
The best fence on slope idea for your home depends on your yard's layout and terrain. With each fencing project, Austex considers your yard's unique elements, including the slope's steepness. We can build your dream fence on a hill with various fence installation options. Within each of these fence on slope ideas, Austex is also capable of customizing your design by using a variety of materials and fence accents.
Fence on Slope Installation Methods
There are four common methods by which fences can be installed on slopes: 
Stepped Fence
Austex uses a stepped fence to accommodate slopes of all sizes. We can use one of two stepping methods to install a secure fence on your Austin property — even with a slope.
Stepping is one of the most common techniques when installing a sloped fence. Stepping is an installation method that involves installing fence panels in each of the steps. Each panel is slightly lower than the previous one to offset the yard's slope. This gives off the impression of stairs but is a great way to accommodate for a steep incline or decline.
While vinyl has traditionally been one of the most common materials used for stepping, it's not the only option. We often recommend wood because of its many benefits, especially with sloped yards. Austex always works with the customer to choose the best fence materials for them and their property.
Racked Fence
A racked fence is another method that Austex frequently uses for sloped Central Texas yards. What is a racked fence? A racked fence uses a technique in which our contractors adjust the fence's rails to match the yard's slope while keeping the fence's posts vertical. Racking a fence requires careful measurements of both the fence materials and the slope's angle. It also involves attaching each picket separately to ensure a consistent, seamless installation.
The great thing about racked fences is that they maintain an even distance from the ground. Racked fences can also be used with a variety of Central Texas installation types, including cementing the fence into the ground or installing it above ground on a welded plate. This makes racked fences a versatile option for sloped properties.
Whether a stepped fence versus racked fence is better for your property depends on your design preferences and your yard's slope measurements. We often recommend a racked fence when your yard's slope is at 30 degrees or less. Stepping may offer you a cleaner, more functional look when your yard's slope angle is more than 30 degrees. With a free Austex consultation, one of our helpful contractors will come out and measure your yard and help you choose the best one.
Fence With Retaining Wall
A fence with a retaining wall is a great option for Central Texas residents who want a fence but need to retain certain portions of their yards. If your property has uneven soil levels, a retaining wall with a fence on top is the perfect solution.
Whereas traditional fences are designed for privacy and security, a retaining wall is a sturdier wall that's often used to support the soil behind it. A fence located on top of a retaining wall can add safety, privacy, and security to your property. Building a fence on top of a retaining wall also offers a unique design that will make your outdoor space stand out.
Installing a privacy fence on top of a retaining wall is also a great way to build a taller-than-average fence. This helps increase privacy even for homes and yards on steep hills. A fence on top of your retaining wall that keeps animals and people out can also help protect your property.
Austex has worked with many Texas homeowners with unique yard layouts, including varying soil and terrain levels. We have a variety of fence on top of wall ideas that can help you manage your soil levels while also offering you the added perks that come with a yard fence.
Angled Fence Panels
Austex often uses angled fence panels on sloped yards with varying angles. If your Austin, Texas, property is made up of uneven ground with differing slope degrees, angled fence panels may be the solution you need. You can choose from wood or iron materials when designing your fence using angled fence panels. Wood angled fence panels give your yard a timeless, classic look that you can easily update with new stain colors over the years. Wooden fence panels can also be a more budget-friendly option for installing sloped fences.
Our Favorite Fences on Slopes
Austex has completed thousands of fences on slopes in the Central Texas area. We've worked with customers with unique landscapes and terrains to create beautiful fence designs that meet their needs. Here are a few of our favorite fence on slope ideas:
1. Stepped Wood Privacy Fence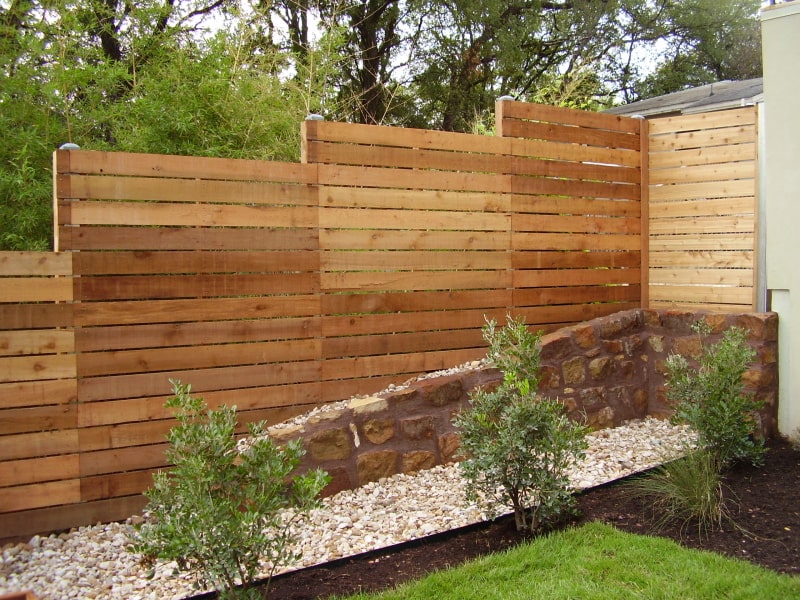 Wood fences are not only great for flat backyards, but they are also a top choice for sloped yards in Central Texas.
Austex often recommends a wood privacy fence for privacy and durability and to achieve a classic, traditional design. We love wood privacy fences because they're low-maintenance and durable, and we can stain them in your preferred color. Wood is also an all-natural fencing material, meaning it's environmentally friendly.
To enjoy wood fencing while maximizing privacy, you can use landscaping techniques to fill in the gaps for a private, secure backyard.
2. Stepped Iron Fence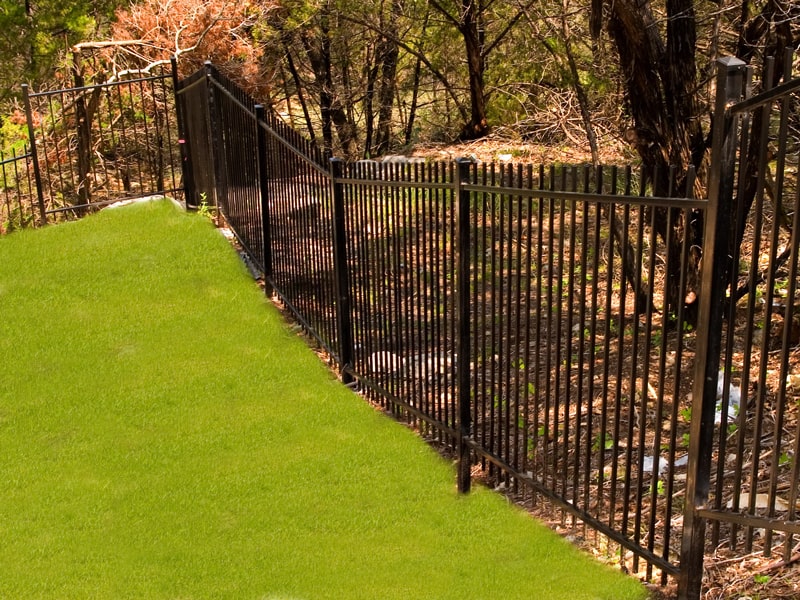 Stepping can also be used to install beautiful, black iron fencing. At Austex, we love iron fences because of their elegant look.
Iron is also extremely durable and easily withstands a lot of wear and tear. Stepped iron fences offer slightly less privacy than wooden privacy fences; however, you can install them along with large bushes or trees for more shade and privacy.
An iron fence may be the best choice if your Central Texas property has beautiful views. Iron fences offer some security and privacy without sacrificing your property's views.
3. Iron Fence on Top of a Retaining Wall
You can also install iron fences on top of a retaining wall.
Iron fences may be better if you have an existing retaining wall. While the installation method of iron fences is similar to that of wooden ones, it does require more accurate cutting and planning.
When installing iron fences on a slope in Central Texas, we often weld the pieces together, which prevents bending or movement. Iron fence installation often involves a method similar to the stepping method used with wooden fences.
4. Alternate-sized Plank Stepped Fence
An alternate-sized plank stepped fence uses different plank sizes laid either horizontally or vertically.
This type of fence is a great option for gradually sloping land, as too large of a slope can prevent the alternate planks from sitting right.
You'll need a fence installation company that can source and install different plank sizes to achieve this contemporary fence design.
5. Rustic Racked Fence
A rustic racked fence is a racked fence that uses leftover lumber scraps.
Some people may construct a rustic racked fence from the materials leftover from a home renovation.
A rustic racked fence can give your yard a classic look at an affordable price. If you prefer, some newer wood can be made to look rustic. While it may come at a higher price point, it's likely to last longer.
6. Tiered Wood Fence
A tiered wood fence features varying levels of wood pieces. Tiered wood fences can be matched to the same wood used on a deck for a clean, consistent design in your backyard.
7. Wood Plank Fence on Steep Sloped Hill
Finding a fence that fits a yard with an extreme slope can sometimes be difficult.
A wood plank fence on a steeply sloped hill offers you privacy and security, despite heavily sloped land. Some people may choose to add landscaping, like trees or bushes, to the slope for even more privacy. Wood fences can be installed even on land with large drops in height.
While gaps underneath the panels are likely, we attempt to minimize these as much as possible.
8. Sloping Wood Fence With Decorative Panels
A sloping wood fence with decorative panels is perfect for adding privacy as well as a decorative element to your backyard.
This type of fence usually includes wood materials with a lattice or open block top in your choice of design.
9. Gradually Sloping Iron Fence
A gradually sloping iron fence is ideal for land with small slopes.
Some people may also choose this type of fence to preserve beautiful views by making certain pieces lower than the previous fence pieces.
10. Stepped Wire Fence
A stepped wire fence adds security to your yard without sacrificing your views.
The exterior of a stepped wire fence is made with durable wood materials, and the interior is made with a wire that keeps rodents and intruders out.
11. Wood Fence With Drops
A wood fence with drops is similar to a stepped wood fence, except with less consistent drops.
This fence can be used with varying levels of land rather than gradual slopes. Smaller wood pieces may be needed to cover gaps.
12. Metal Post Sloping Fence
A metal post sloping fence uses single metal posts to create the outline of a fence on a sloped property.
A metal post sloping fence does little to keep smaller people or animals in or out, but it can be a great option for pinpointing property lines.
13. Combination Fence
Combining more than one technique can help accommodate different degrees of slopes.
For example, you can use large trees and bushes on one side of the property and then a half wall for added privacy on the other side.
A fence that includes both brick and wood materials gives your fence more durability and a more visually appealing design.
14. Stepped Fence With Flowers
A stepped fence with flowers adds a floral and fragrant approach to a traditional stepped wood fence.
To create a lush, green oasis, you can install flower or planter boxes on the back of your wood fence panels.
15. Lattice Style Fence on a Slope
A lattice-style fence on a slope adds unique customization to your fence.
Lattice designs are available in a wide range of choices, including square or diamond-shaped spaces.
16. Iron Fence With a Railing
An iron fence with a railing adds an extra layer of security to your yard.
This involves installing a sloping metal fence with a wooden railing in front of it. This can also stop people from climbing over or messing with the fence.
17. Sloping Wood Fence With Planters on Bottom
Another great way to customize your wood fence on a slope is with planters on the bottom.
Planters give you additional space to grow your favorite fruits and vegetables while also drawing attention away from the varying levels of fence pieces.
18. Decorative Panel Fence
A decorative panel fence gives your property visual interest and privacy. The panels can be installed to accommodate a yard's slope.
19. Sloping Log Fence
A sloping log fence can provide a minimal barrier while helping you keep your yard's beautiful views.
The log materials give your home a rustic design that matches most deck and patio designs.
20. Dog Ear Wood Picket Fence on a Slope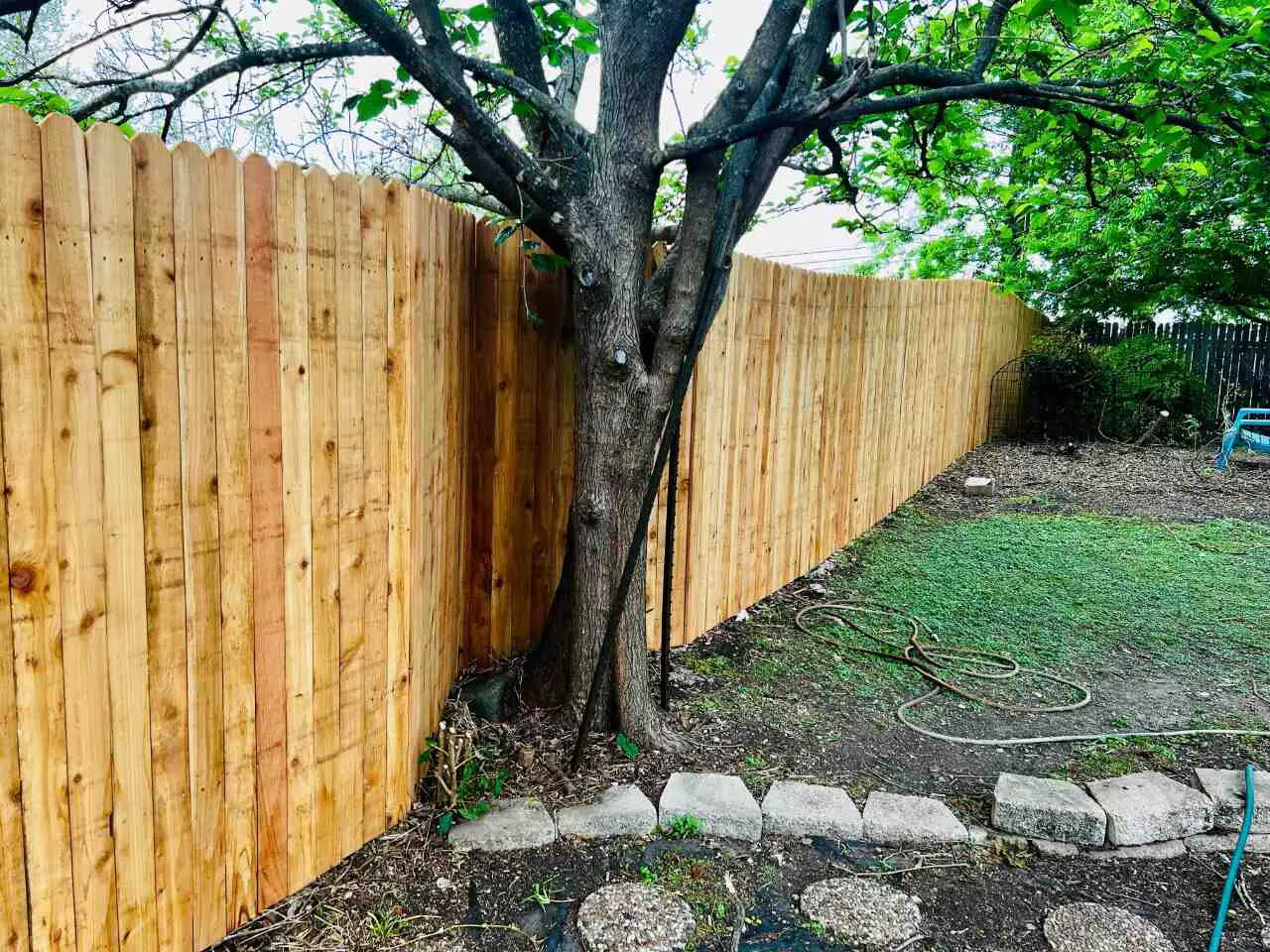 A dog ear wood picket fence on a slope is easy to install and gives your home a welcoming appeal.
Dog ear picket fences can also keep pets and children safe without blocking views.
21. Alternating Retaining Wall
An alternating retaining wall uses not only varying degrees but also widths of boards. You can install an alternating fence on a retaining wall for a unique look.
Are you ready to begin designing your sloped fence project? Austex works with customers all throughout Austin and Central Texas, including homeowners with varying slopes of land. We welcome the most challenging of sloped properties, and we're confident that we can build you a durable, sturdy, and beautiful fence.
Not sure if a sloped fence is right for your property or if it's within your budget? Contact Austex today to get your free quote. With over 30 years of experience installing secure, high-quality fences in Central Texas, our experts can help you choose the best fence for your property.
Fence on Slope FAQs
You can enjoy the perks and beauty of a fence, even if your home is located on sloped land. Austex always welcomes any questions or concerns you may have about installing a fence on a sloped property. We've worked with Austin and Central Texas homeowners for over 30 years on all their customized fence installation needs. We're confident we can design a fence you'll love, even if you have a sloping yard.
Here are some of the most common questions we get about fences on slopes in Central Texas:
Can you put a fence on a slope?
Yes, you can put a fence on a slope. Installing a fence on a sloped yard may be more difficult than on a flat yard, but it's certainly possible. Preparation is even more important when planning to install a fence on a slope. You also want to choose a fence installation company with experience specifically in building fences on sloped land.
Can you build a horizontal fence on a slope?
Yes, it's possible to build a horizontal fence on a slope. A horizontal fence is a design that includes fence boards running from left to right, rather than up and down. The best method for installing a horizontal fence on a slope is to use the stepping method. Stepping helps maintain the clean, straight lines of the horizontal fence, even on a slope. It's also possible to slope a horizontal fence and follow the natural terrain of your yard. Using this method, Austex follows the ground line during installation.
What type of fence is best for a sloped yard?
The best type of fence for a sloped yard depends on your needs and design preferences. Austex works closely with Central Texas residents to create a fence design that accommodates not only their yard but also what they need from their fence.
One of the best types of fences for your sloped yard in Central Texas is one with rackable panels. This fence type is newer and involves attaching fence pickets to each panel at the top or bottom using a hinged post. The great thing about this installation method is that the pickets automatically adjust to the necessary angles of your yard.
Can you use fence panels on a slope?
Yes, you can use fence panels on a slope. You can install fence panels on a sloped yard in Central Texas using either the stepping or racked fence techniques. We step each panel up or down to keep the fence level and ensure a clean, consistent look. Then, we install the fence posts plumb, which follows the grade changes of the land.