Outdoor decks are still one of the best ways to upgrade your home and add curb appeal, and the options have greatly evolved over the years to be more durable and sustainable.
So, which style of decking will meet your home's structural needs, budget and allow for the best outdoor living experience? Here, we'll compare both cedar and composite decking so you can determine what will work best when planning for your new outdoor escape.
Cedar Decking
The most commonly used types of wood used in traditional wood decking are cedar, redwood, or a mix of different species. Cedar is a beautiful and insect-resistant option but is also a softer wood that is more susceptible to splintering and weathering.
It can be water-treated and stained in order to match your home and desired aesthetic but must be maintained year after year to keep it from fading.
Installation of a traditional cedar wood deck can be performed by an individual. However, it is usually best left to a professional builder. If measurements aren't precise, your deck can come out looking messy and uneven, which can be a costly mistake.
Cost of Cedar Decking
One advantage of using cedar wood for decking is that it tends to be less expensive than composites, but it's still important to keep yearly maintenance and upkeep costs in mind.
Composite Decking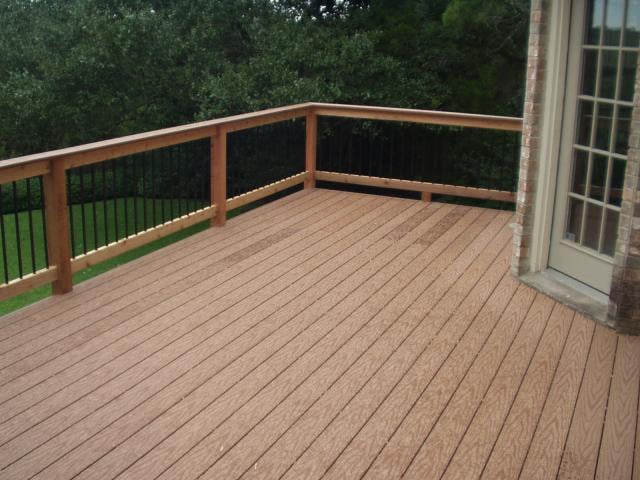 Composite decking is similar to engineered wood siding used in homes. It is made up of recycled wood fibers, a bonding agent, recycled plastic, and other materials that make it fade resistant to UV light. In combination, these materials form a decking material that is more durable, resistant to pests, cracking, rotting, and fading in comparison to traditional wood.   
Composite decking requires little maintenance to retain its color, unlike cedar decking. Another advantage: composite decking is built to last an average of 25-30 years, so it can be enjoyed season after season.
Composite decking comes in several colors and styles made to look and feel like natural wood (cedar being an option), and many manufacturers offer custom colors to match your personal style.
Cost of Composite Decking
It's important to keep in mind that composite decking usually does come with a higher price tag than cedar decking. That being said, composites are lower maintenance and won't require regular refinishing to stay beautiful for years to come. The time and money you'll save on upkeep will more than makeup for the upfront cost.
With any installation, it's usually best to hire a professional to make sure the final product turns out exactly how you envisioned it.
You can give Austex a call any time for a free estimate, and our friendly team is happy to help you with whatever outdoor living space ideas you can dream up!